According to nearly everyone that i talked to, to install LCA relocation brackets i would need to grind or cut off a part of my e-brake cable brackets. FALSE!
This here simple easy to follow guide will have your fancy new relocation brackets in, in about an hour or 2 depending on how much beer you're drinking.
Things you'll need:
1. A hammer is always nice.. I personally used a small ball peen hammer and a plastic dead blow hammer.
2. You'll need a few sockets, i used a 19mm and a 13/16.
3. A 19mm wrench
4. A punch or chisel, and or a prying tool.
5. A jack and jackstands.
Okay to start things off here are a few helpful tips.
1. Take the wheels off.. its a pain and took me nearly 3 hours to do the passenger side with the wheel on. I did the drivers side in literally 25 mins with the wheel off.
2. Be very patient and don't be afraid to whack stuff with a hammer if needed :P
3. Don't keep the ebrake on while trying to install the brackets. It puts tension on the ebrake brackets and makes them harder to line up.
4. I started out on just ramps.. plenty of room, but cant really stay on the ramps if you have to take the wheels off. So don't use ramps.
Okay follow these easy steps lol
1. Jack the car up in the middle of the diff housing
2. Put some jackstands somewhere.. (i didn't use any :P)
3. Take your wheels off.
4. Use your 19 mm wrench and socket to take the LCAs off.
5. Use your 20 mm or 13/16th socket to unbolt your shocks.
6. This next part is the tricky part..
Your going to want to use your chisel or prying tool to pry the outside of the ebrake bracket outward.. here have a diagram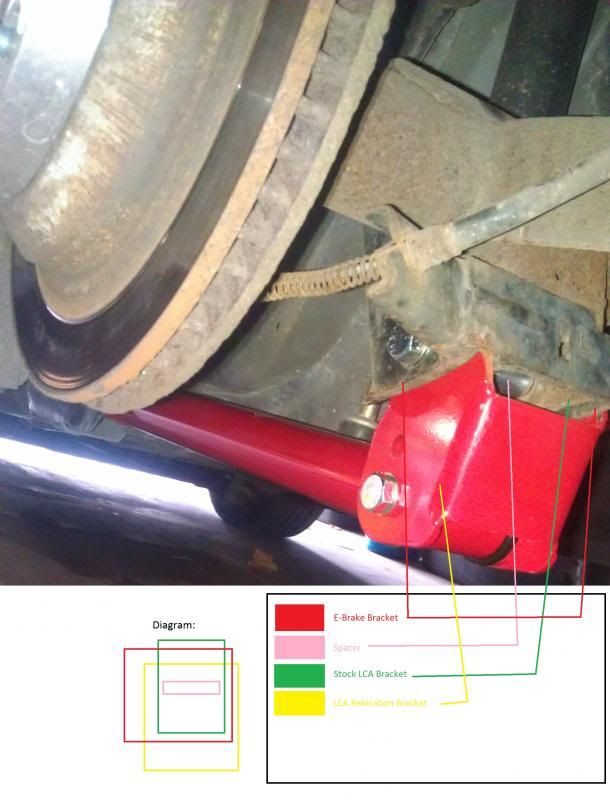 7. Okay so after you bend the bracket get your new relocation bracket and sandwich it in as shown in the diagram.
8. Put your shock back into place and put bolt on. Don't tighten yet however.
9. Put your spacer in and line everything up properly.
10. Slide bolt through.. don't be afraid to wiggle and smack it with a hammer. I put the bolt in from the brake side.
11. Tighten shock nut. Tighten lca bracket bolt and nut.
12. Repeat on the other side.
13. Do a sick ass no wheel hop burn out